Discover Brigham 2019
Welcome to the ePosterBoards Submissions page!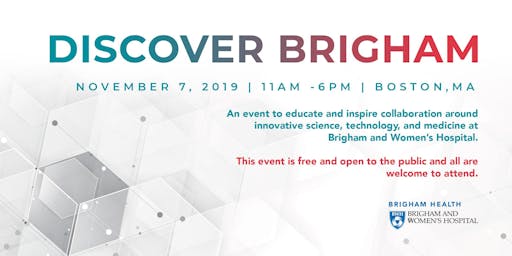 An event to educate and inspire collaboration around innovative science, technology, and medicine at Brigham and Women's Hospital. This event is free and open to the public – all are welcome to attend.
Please visit our website for more details: www.discoverbrigham.org
Online Poster file Upload Submission Deadline: Tuesday, November 4 by 5:00PM EST. (This is the last day to upload your poster file before revision period begins.)
ePoster Upload Instructions
Create an account by providing your email address and creating a password
Fill out the ePoster submissions form assigned to your ePoster session event
Attach your ePoster file
Click on the Submit button
Note: You will receive an email notification once your ePoster has been submitted and reviewed.
ePoster File Requirements
Page Setup Size is 40.97"X23.04"
FONT SIZE is 28 Points or Larger
Setup Slide Show is Set Up to "Loop Continuously until 'Esc'"
File is Saved as Lastname.Firstname.pptx
For more helpful tips on how to submit your ePoster file, see below frequently asked questions and click on each link to access tip:
If you have any questions regarding your submission, send us a message from your submissions dashboard.
Thank you for submitting with ePosterBoards!